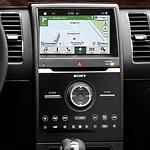 SUVs and trucks don't always get credit for being smart, but Ford Flex defies this stereotype. Its popularity in the three-row midsize SUV category is undeniable, but now Flex has advanced technology features to boot. Our Beaman Ford Inc. team selected the following two technology features for your info.
Meet the Rear View Camera
The days of straining to see what's behind you via your rear view mirror are over. Ford Flex's Rear View Camera captures a real-time view of what's behind you, adding a Backup Assist Grid to ensure safer, smoother handling when Flex is in reverse.
Efficient, Fuel-Saving Cruise Control
Ford Flex's Adaptive Cruise Control eliminates the annoying, gas-guzzling stop-and-go of rush hour traffic. With Adaptive Cruise Control, you select a preset speed and following gap. Flex then maintains your selection, using fuel efficiently and maintaining a safe following gap as you tackle daily commutes through Dickson.
We invite you to test drive Ford Flex at Beaman Ford Inc. today. See you soon.