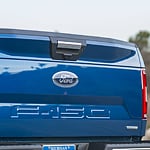 There are few vehicles that can match the reputation of the Ford F-150 truck. This is the best-selling pick-up that gives you some of the most amazing performance of any vehicle. Here is a look at some top performance features of the current model F-150.
With the standard powertrain, the Ford F-150 delivers up to 375 horsepower from a 3.6-liter V-6 EcoBoost engine. This is the engine that has made the F-150 the bestselling truck across America and around the world. When you are looking for some serious turbo power, you can opt for the 3.0-liter Powerstroke turbo-diesel engine that gives 250 horsepower and up to 440 foot-pounds of torque. When you need to get some serious towing done and save at the gas pump, this turbo-diesel powertrain will be your top choice.
We are proud to have a full line-up of Ford F-150 trucks at Beaman Ford Inc. Visit us today for a test drive.